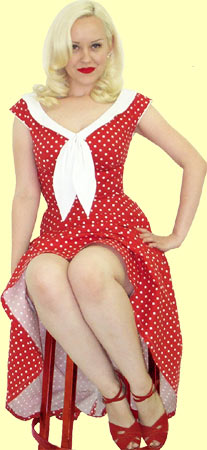 So I check my mail the other day and I receive an invite from my quirky friend who's throwing a 50's Swingin' Cocktail Shindig (not that kind of swingin') and I have to find the perfect dress! The first thing that enters my mind is "Poodle Skirt," but I wore one of those in like 2nd grade and this is an adult party. I was totally stuck and then I jumped on the computer and typed "Retro Cocktail Dress" into Google and low and behold, I found the hottest site, "Daddy-O's .com!"

When I first opened the site and read, "Where the coolest get their coolness!" and then saw the color scheme & design, I knew I was in the right place! From bowling shirts to swing dresses to dice earrings, this site literally has it all… Whether your occasion calls for rockabilly, swing, or lounge, Daddy-O's has the threads for you! They are your one stop shop for 50's styled retro clothes and nostalgia items inspired by the 1950's.
Daddy-O's has the sexiest cocktail dresses and I'm having a hard time choosing.
I'm stuck between these three:
And since Hubby has been playing the "I have nothing to wear" card, I can now call his bluff with the Steady Black and Sage Royale shirt. He just has to pair it with a pair of jeans and we're all set. Sorry Honey!