Kate Spade NY Sale


You'll find a number of beautiful
limited edition
collectibles included in this sale. [
Chic Alert
]
Halloween Ready Made Outfit: Mary Kate Olsen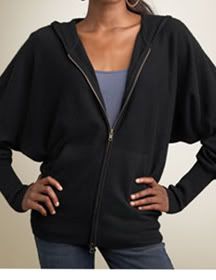 Twelfth Street By Cynthia Vincent Cashmere Zip Hoodie | $272 at
Nordstrom
If you've been dying to dress in the effortless, rock 'n roll style of Mary Kate Olsen, Halloween is your chance to do it without looking like a poser. Bear with us–achieving MK's look means a lot of black, a lot of layering, and a lot of accessories. And after you've got the outfit down, don't forget to slouch a bit as you're walking, and make sure the hoodie on your sweater is worn over your disheveled and nappy hair.
"Mary Kate Olsen" Fashion Formula = Black Hoodie + Men's Oversized Tee + Skinny Black Jeans + Dark Sunglasses + Studded Belt + Quilted Handbag + Oval Ring + Peep Toe Pumps.
[
Omiru
]


Clutch a Leopard Bag with Gold Leather Trim from Myna Bags as a Stylish Carryall for your Essentials


The incredible cute factor of this "Raquel" clutch is a great inducement to travel light. Available at
MightyFlirt.com
. [
Fashiontribes
]

Give Yourself A Bangin' Booty


Destiny's Child aren't the only ones who can sing about being bootylicious. Now you can too! Here are two new ways to boost your butt without having to do thousands of lunges and squats.
Belive it or not, Wonderbra is getting into the butt-enhancing business.
read more
[
FabSugar
]

Betsey Johnson Frame Bag


Betsey Johnson Frame Bag: This season is filled feminine sophistication. Whether in accessories or clothes, there seems to be an air of maturity and fashion that I am very excited about. The Betsey Johnson Ruffle Frame Bag is a perfect example of this. [
Brown 712
]

Ivanka Trump vs. Rosario Dawson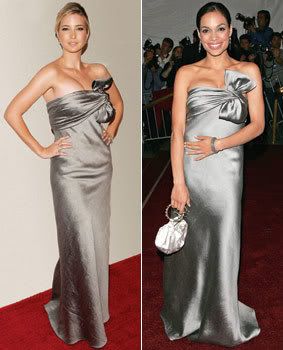 Silver belles: The Donald's daughter wowed in J. Mendel at an NYC awards show. Dawson put on the silk evening gown for a gala in NYC. [
Who Wore It Best?
]
Jewelry Sale for Breast Cancer
This past weekend, I had a jewelry to help raise money for my friend who was doing the Avon Walk for Breast Cancer. It was a fab little event, complete with snacks, wine, spoon fudge samples (yummy!), raffle, goodie bags for the first 20 people to show and lots of fundraising!
read more
[
Shopaholics Anonymous
]
Release Your Inner (Vixen) Bunny?
I hate Halloween. Why? Maybe my core group of friends embraced the 'costume change' at our theme parties and it's lost the novelty. Maybe mixed childhood memories of fluffy bunny costumes that took weeks to sew, but only minutes to be teased at…or the year mom put cocoa paste on her face and went as Aunt Jemima (so politically incorrect) and escorted me trick-or-treating. Maybe it's that I got sick of going as a witch four trillion times.
read more
[
The It Lists
]

GlamSpace
where stylish people connect.
Be discovered now
!
Oct. Monthly Giveaway:
Fat Free by CiCi - Flower Ring
Don't miss out on your last chance to win!